Copyright © 2011-2022 D.C. Ramey Piano Company, LLC. All rights reserved.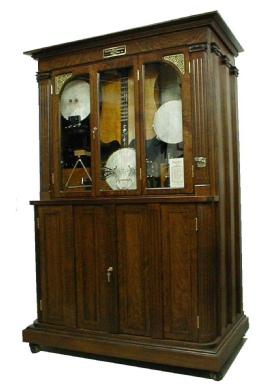 Instrumentation. The Banjo-Orchestra is comprised of piano, banjo, snare drum, tambourine, triangle, wood block, castanets, bass drum, and cymbal. The piano features a high quality overstrung sixty-one-note plate, identical to those used by J. P. Seeburg in their models K and KT nickelodeons. The custom crafted banjo is beautifully inlaid with abalone and mother-of-pearl. The mechanisms throughout are crafted using traditional orchestrion-building techniques and materials. All the orchestral components have sophisticated pneumatic expression controls, including the banjo, which has a unique muting device, that allow the Banjo-Orchestra to perform with a finesse that surprises and delights musicians. No expense has been spared to produce a quality instrument which will entertain for years to come!
Banjo-Orchestra
We proudly introduce, to the discriminating collector, the most exciting and entertaining Jazz Band Orchestrion of the Ragtime Era...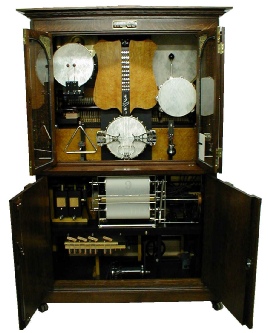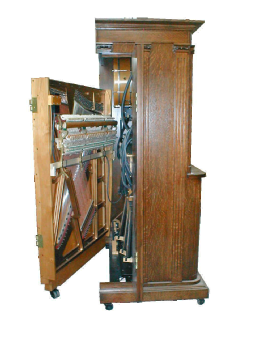 The Ramey Banjo-Orchestra is a totally new "nickelodeon" orchestrion based on a similar machine, the Banjorchestra, first introduced in 1914 by the Connorized Music Company and later built by the Engelhardt Piano Company.
Music Rolls. The instrument plays a unique ten-tune orchestrated music roll created specifically for this new orchestrion with the help of noted music roll arranger Art Reblitz. Many of the selections featured are from original Encore Banjo rolls. Mr. Reblitz also adapted European orchestrion arrangements, many of which were inspired by American dance band arrangements played by some of the best 1920's jazz bands and adapted to Weber, Hupfeld, Popper and other tracker scales. This allows the Banjo-Orchestra to play some of the finest music arranged for automatic musical instruments. The end result is a quality of music unlike anything ever heard from a coin piano. The instrument comes with five music rolls with the exclusive rights to purchase new arrangements.
Cabinet. The Banjo-Orchestra is showcased in a cabinet constructed of a solid poplar core, double veneered with quarter-sawn white oak (may be special ordered in other species of veneer). All instrumentation is visible from the front, including the piano, through a three-door hinged front that is fitted with clear glass panels. The instrument operates from an accumulator nickel coin slide, unless otherwise special ordered. Electric lamps illuminate the interior of the instrument when playing. It is 6 ft. 6 in. tall, by 4 ft. 4 1/2 in. wide, by 2 ft. 7 in. deep, and weighs approximately 650 pounds.
Terms. The purchase price of a Ramey Banjo-Orchestra is $80,000.00 for the "standard" quarter-sawn oak model. It includes five ten-tune music rolls, with the exclusive rights to purchase new arrangements (additional music rolls are $350.00 each, currently there is a library of 18 ten-tune rolls). Delivery and set-up within 200 miles from the factory is also included. $25,000.00 is required upon order with a second installment of $25,000.00 due during the process of construction with the balance due upon completion, other payment plans are available. Please inquire for a current projected completion date or availability of used models.
Click here for more information about the history of the Banjorchestra and the development of the Ramey Banjo-Orchestra.