Copyright © 2011-2022 D.C. Ramey Piano Company, LLC. All rights reserved.


Instrumentation. The new Encore features a custom crafted open back banjo with nickel-plated hardware. The fingerboard and peghead inlaid details of the original are beautifully executed in abalone. Tuning maintenance is kept to a minimum thanks to the use of a synthetic skin head. A modern version of the famous "Whyte Laydie" tone ring allows the new Encore to surpass the original in volume and clarity.
After more than a century, the musical marvel lives on...


Music Rolls. The instrument operates from a unique five-tune endless loop music roll. Some of the original rolls have been copied, five of which are included with the purchase of the instrument. A few new rolls have been made featuring music arranged by Art Reblitz.
Cabinet. The new Encore is showcased in a solid quarter-sawn white oak cabinet patterned after the original. Other wood species is available at an additional charge, as is beveled glass (plain glass is standard). The cabinet features cast-brass decorative corner grills in the front and sides. The instrument operates from a single drop nickel coin slide, unless otherwise special ordered. An electric lamp illuminates the interior of the instrument when playing. It is 6 ft. 8 in. tall, by 2 ft. 2 in. wide, by 2 ft. 2 in. deep, and weighs approximately 280 pounds.
Terms. The base price of a Ramey Encore Automatic Banjo is $29,000.00. It includes five five-tune music rolls, (additional music rolls are available). Delivery and set-up within 200 miles from the factory is also included. $10,000.00 is required upon order with the balance due upon completion. Please inquire for a current projected completion date or availability of used models.
Click here for more information about the history of the Encore Automatic Banjo.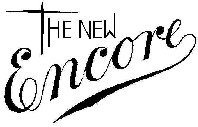 The Ramey Encore Automatic Banjo is a totally new instrument based on the original model, first introduced in 1897 by the American Automatic Banjo Company.