Previous Page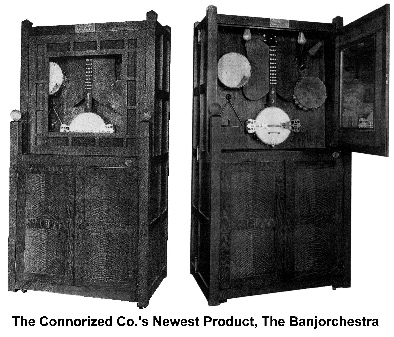 The Banjorchestra will prove a handsome addition to the equipments of halls, assembly places and other locations where tangoing is indulged in and orchestra music is required, and a demonstration justifies the prediction that in the Banjorchestra the Connorized Music Co., or, more particularly, James O'Connor and Arthur Conrow, have created a "winner."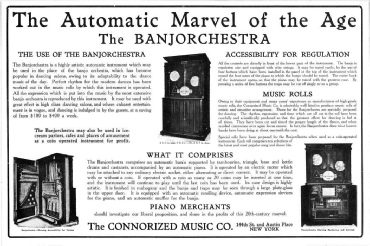 The Engelhardt Piano Company produced a variety of automatic musical instruments from about 1890 to the late 1920's under various names, Peerless being the best known. The two extant Banjorchestras were made by Engelhardt. The most complete was purchased by Rick Crandall, an Encore Automatic Banjo enthusiast, from Knott's Berry Farm in 1983. Dave Ramey was given the job of restoring this historic find. The instrument was serving as a "puppet show" nickelodeon. The banjo and traps had been removed and replaced with dancing puppets. The front soundboard remained where the banjo and traps were mounted and the placement of the banjo and traps could be seen by the shadows left by sun bleaching. The piano and banjo valve chests were left intact.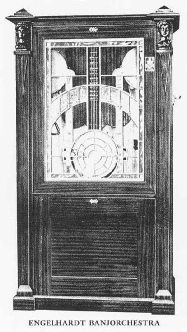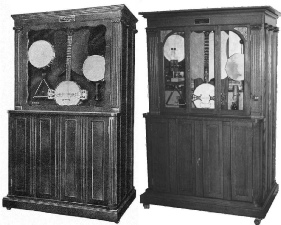 Once the new prototype Banjo-Orchestra was developed, the restoration of the original Engelhardt continued, ten years after the project began. The instrument was modified to utilize the new rolls and all their instrumentation. Soon, the first restoration of an original Banjorchestra was complete!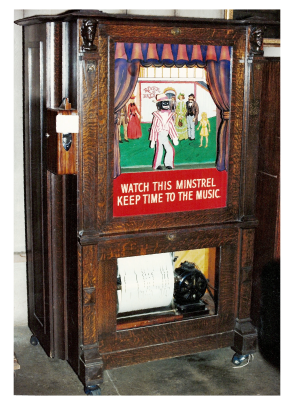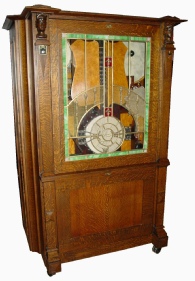 Dave Ramey, David Jr, and Art Reblitz in 1994.
The music rolls for the Ramey Banjo-Orchestra, of course, have to be specially arranged. Art Reblitz continues to arrange new ten-tune music rolls. Inspiration is drawn from many sources; original Encore rolls, 78 rpm recordings of the best dance bands of the period, arrangements from the best music rolls for coin pianos and orchestrions of other makers. This transcribing and adapting allows the Ramey Banjo-Orchestra to play some of the finest music ever arranged for automatic musical instruments. Unlike most American coin pianos, the music rolls for the Banjo-Orchestra are arranged to be played exclusively by this instrument. The music roll layout perfectly fits the instrument, rather than having to accommodate several models, each being different in its musical capabilities. This singularity of use results in a quality of music unlike anything normally heard from a coin piano.
To date, there have been 27 new Ramey models made , three of which feature a mahogany cabinet. After 100 years, the Banjorchestra lives on, hopefully, never to disappear again. The name "Ramey" may be on the new Banjo-Orchestra, but it took the talents of many people to realize the rebirth of this obscure American orchestrion.
Engelhardt Banjorchestra, restored